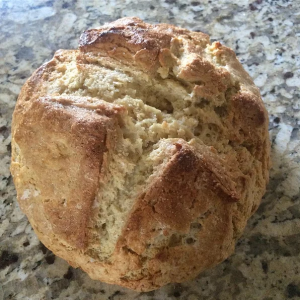 Irish Soda Bread
Ingredients
4

cups

all-purpose flour

4

tbsp

sugar

1

tsp

baking soda

1

tbsp

baking powder

1

tsp

salt

1/2

cups

softened Brummel & Brown spread

1 1/4

buttermilk

1

egg

large

1/4

cups

melted butter
Instructions
Preheat oven to 375 degrees F (190 degrees C). Lightly grease a large baking sheet.

In a large bowl, mix together flour, sugar, baking soda, baking powder, salt and margarine.

Stir in 1 cup of buttermilk and egg.

Turn dough out onto a lightly floured surface and knead slightly.

Form dough into a round and place on prepared baking sheet.

In a small bowl, combine melted butter with 1/4 cup buttermilk; brush loaf with this mixture. Use a sharp knife to cut an "X" into the top of the loaf.

Bake in preheated oven for 30-40 minutes, or until a toothpick inserted into the center of the loaf comes out clean. Continue to brush the loaf with the remaining butter mixture while it bakes.

Let rest for 10-15 minutes before slicing and serving.