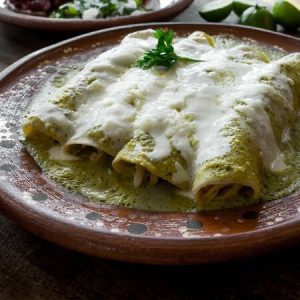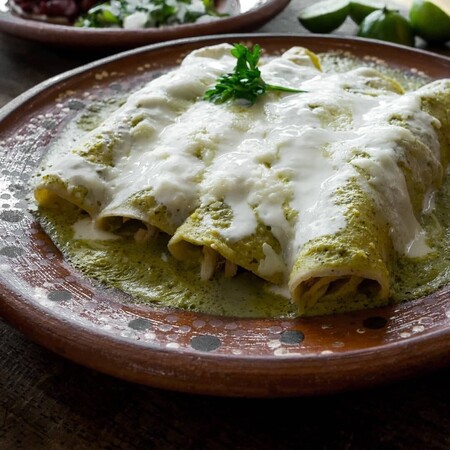 Enchiladas Verde
Equipment
1 Blender

1 Large skillet

2 9×13 casserole dish

1 Instant Pot

optional, if using chicken
Ingredients
5

jalapeno peppers

stems removed

3

fresh tomatillos

husks removed, stemmed and halved

1/2

yellow onion

1

tsp

minced garlic

1 1/2

teaspoons

ground cumin

1

cup

water

or as needed to cover

1/3

cup

vegetable oil

1 1/2

cubes chicken bouillon

1

sprig fresh cilantro

1

cup

extra virgin light olive oil

20

6″ corn tortillas

2

boneless skinless chicken breasts

optional

1

cup

chicken broth

optional

1/4

tsp

ground cumin

optional

1/4

tsp

garlic powder

optional

12

ounce

queso fresco

shredded
Instructions
Remove the stems from the jalapenos.

Remove and discard the husks and stems from the tomatillos, then cut the tomatillos in half

Place jalapeno peppers, tomatillos, yellow onion, garlic, and 1 1/2 tsp cumin in a blender; pour in enough water to cover the vegetables. Blend until liquified, about 1 minute.

Heat 1/3 cup vegetable oil in a skillet over medium-high heat just until oil has begun to warm, about 30 seconds; pour the blended jalapeno mixture into the oil. Stir in chicken bouillon cubes and cilantro. Reduce heat to medium and cook sauce for 30 minutes, stirring occasionally.

If making chicken enchiladas (instead of only cheese), prepare the chicken while the sauce simmers. Add chicken breasts to the Instant Pot, and then add the chicken broth and sprinkle the chicken with cumin and garlic powder. Pressure cook the chicken for 10 minutes on higher pressure, do a natural release for 5 minutes, and then do a quick release. Shred the chicken using two forks.

Remove green sauce from heat and allow to stand while you complete remaining steps.

Lightly coat a 9″ x 13″ casserole dish with cooking spray.

Preheat the oven to 350 degrees Fahrenheit.

Heat oil in a skillet over medium heat. Using tongs, place each tortilla into the hot oil and fry for 5-8 seconds on each side. Tortillas will be pliable; do not overcook.

Immerse the fried tortilla into the green sauce to coat, and then place the tortilla into the casserole dish.

Sprinkle the tortilla with about 2 teaspoons shredded queso fresco cheese (and chicken, if also using chicken) and roll into a thin enchilada.

Repeat for remaining tortillas.

When all tortillas are in the casserole dish(es), spoon the remaining verde sauce onto the enchiladas and then sprinkle with the remaining queso fresco cheese.

Bake at 350 degrees for 5-8 minutes, or until cheese is melted. Serve hot.